You must have thought that Selena Gomez's amazing brand Rare Beauty has always been about beauty, makeup and skincare but Selena Gomez surprised us with something new and unexpected from her brand a few days back.
On Sept 7, Rare Beauty posted a curious BTS of Selena Gomez Wearing a hoodie with a pop up of a few questions on the video "Is that…a new Rare Beauty Hoodie?", "What color do you think it is?", "When can I get one?", and "I have so many questions". And the caption was "Something may or may not be launching on rarebeauty.com tomorrow :eyes: What's your guess? Drop it in the comments."
The video they posted was with a black filter so obviously we wouldn't be able to recognize what color we are getting at that time.
But After some time Rare Beauty posted the "hint giving" video, same day Selena Gomez posted a color revealing picture of her own on her official account with a caption "You guys, I know you love being cozy just as much as I do and I'm really excited to share my new limited-edition @rarebeauty Comfy Sweatsuit. You're going to want to live in it. Shop it only at RareBeauty.com" The post quickly started to get viral and got 5M likes and 14.8K comments up til now since september 7.
The Comfy Sweatsuit collection features a Comfy Sweatshirt priced at $45 and Comfy Sweatpants priced at $40, offering fans the opportunity to elevate their loungewear game with Selena Gomez's signature style. The pieces come in a variety of sizes (from XS to 3XL), ensuring that everyone can enjoy the comfort and style of the Rare Beauty Comfy Sweatsuit.
The best thing about this collection is how welcoming it feels, because of their sizing range as it can fit to a skinniest person and gives them the oversized vibe they need and to a plus-sized person who wants to beautify her curves with a comfortable pair of sweats. Also the color choice is something that compliments every kind of skin tone which is 100% making us believe that Selena truly is a kind soul and her brand has exactly what she gives off and takes.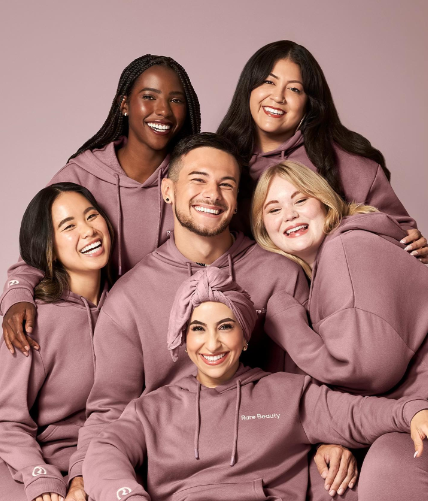 The Comfy Sweatsuit collection is now available for purchase exclusively on RareBeauty.com. Given Gomez's track record of success in the fashion and beauty industry, it's safe to say that these cozy pieces are destined to become a staple in wardrobes across the globe. Get ready to lounge in style with Selena Gomez's Comfy Sweatsuit!